Convert Quark to InDesign Files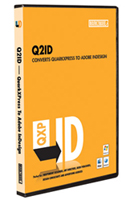 I had a service where I converted Quark files to InDesign files for a small fee per file.
I AM NO LONGER OFFERING THIS SERVICE.
I have been asked to stop this service by Markzware as it is against their usage policy.
It is possible to save Quark files backwards until version 4, which InDesign can open. If you don't have both Quark Xpress & Indesign and you have lots of Quark files to convert I would strongly recommend Q2ID plugin, it's a great time & work saver and produces great results.
Markzware do offer to do a 'one off' file conversions for a fee, please contact them for more details: sales@markzware.com
About Q2ID Plugin
Q2ID (QuarkXPress to Adobe InDesign) is an Adobe plug-in for InDesign. It provides a quick, easy and affordable method for you to migrate content from QuarkXPress to InDesign in a new document. The data conversion is enabled with a single click using InDesign File->Open. No more re-creating documents from scratch, Q2ID gives you a big head-start in converting Quark to InDesign.
Markzware Q2ID file conversion software converts intricate details of the content within a QuarkXPress document and instantly re-creates the document within InDesign. Items that convert from Quark using the Quark to InDesign CS plugin include: page positioning, color models, fonts and styles, images, and text attributes as well as tables, layers, blends, runarounds, linked text boxes, anchored boxes, and pantone colours.
Conversions of XPress files to InDesign
Quark, InDesign, Convert, Conversion, Quark XPress, CS2, CS3, CS4, CS5, CS5.5, CS6, Quark 9, Quark 8, Q2ID, ID2Q, plug-in, Adobe, QXD, QXP, INDD